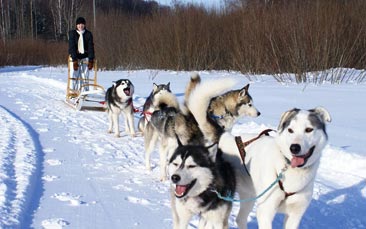 If you are grabbing life by the Baltic, so to speak, during your hen party then dog-sledding is an absolute must. This ancient and fascinating transport has given birth to some of our favourite dog breeds (who doesn't love a husky pup?). We could go on at length about how important sledding has been historically... communications... medicines... yadda, yadda, yadda. But the simple fact is; husky sledding is awesome!

Having sat on a sled, we can categorically state; there is nothing like the thrill of being behind a team of racing dogs, baying and straining at the leash ready to get running. Bred purely for this purpose these amazing hounds totally come to life as soon as they are harnessed and the sheer speeds they can reach are mind-bending.

The 3-mile track is set in deep forest, surrounded by some quite outstanding scenery and each trek lasts approximately 15 minutes. With the cold wind slapping your face, and the dogs pulling you at high speed along the wilderness, dog lovers in particular will experience a total adrenaline rush that you will never forget!

And no matter how many times you ask the instructors, no, you can't take one of the dogs home with you.