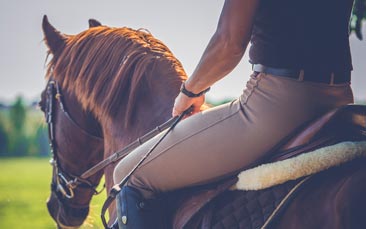 While she might have forgotten her passing love for equestrian beauties as a child, on her special weekend, it'll be a wonderful treat for the bride-to-be to reminisce about her youth on the back of one of the most graceful creatures in the animal kingdom. Hen party horse riding is easy to learn and a surprisingly peaceful activity that's perfect for making fabulous memories with your favourite girls.

There might be nothing as relaxing as sitting on top of a beautiful, strong horse as it confidently strides across the landscape, waiting for your direction as to where to go next. This really is a fantastic way to get back to nature, and the wind in your hair as well as the gorgeous panoramic views means that this is the perfect activity for brushing off those lingering hen hangovers.

You'll receive experienced horse riding instruction and guidance from our friendly tutors who'll be on hand throughout your ride to make sure that everything runs smoothly; whether that means simply adjusting your saddle or offering top tips to make sure you get the most out of your hen party horse riding experience.

Get to know a gentle giant and unwind with your favourite girlfriends ahead of the nearly-wed's big day.