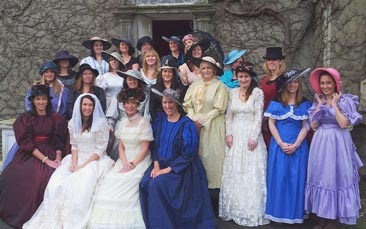 Calling all Downton Abbey fans! Take a step back in time to the Victorian era where you'll experience life in a Victorian household in our Downton Abbey hen party in Dublin. On arrival, you'll be greeted by the butler who will give you a tour of the household.
You'll then head 'below stairs' and change into your servant's costumes ready to carry out your household chores. The kitchen isn't a place for perfectly polished nails ladies. You'll be prepping dessert, lighting the fire or having a hilarious chamber pot race.
After all your exertions it's time to head upstairs for a much grander life. A quick costume change and you'll all be transformed into ladies with a range of dresses, props and hats for you to choose from.
Once you've finished swapping hats and uploading possibly the weirdest photos and selfies ever to Instagram, you'll be escorted to the great dining room where you'll be the guests of honour and tuck into a delicious afternoon tea. You'll all tuck into a selection of treats including:
Fresh finger sandwiches
A selection of crackers
Brussels pate
A combination of cheeses
Profiteroles
Meringues
Traditional shortbread
After tea, you'll all take part in some parlour games, a dance and a proper photoshoot to create some amazing Downton Abbey hen party memories the bride will be able to look back on. A fabulous themed day and something totally different... You can start practising your "Yes m'Lady's" right now... "Yes m'Lady."
Please let us know if you have any special dietary requirements.