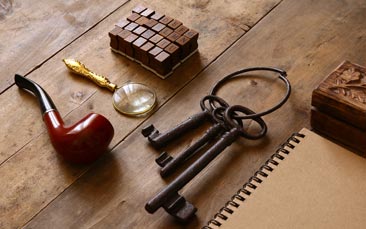 These scary rooms have twists and turns a plenty. Solve the puzzles, piece together the clues and make your escape before the clock runs out.
ALCATRAZ
In 1934 the infamous Alcatraz maximum security was believed to be 'escape proof'. But you've got other ideas. A diversion has been caused by other inmates, the wardens have sprinted off to help, leaving your cell unwatched. This could be your only chance to escape and you have just 60 minutes.
ENIGMISTA
Reports of a crazed killer have been rife, he has a secret lair and only one victim has ever escaped...
You wake up in a room that's completely dark. You don't know how you got there but it seems your captor wants you to play a series of games to find out just how much you want to live! So... are you ready to play?
FIBONACCI
Renowned cryptologists you've been brought in by the police to help investigate a murder in a museum. But you discover something even bigger ancient and earth shattering information which has laid hidden for centuries. But it seems you're not the only ones who know it's true power. Your only hope is to escape with your findings before it's too late.
JUNGALA
Board games are so much fun! Unless of course they have magical powers and manage to take you to a parallel universe where you're trapped in the game itself, then not so much fun. But you chose the game, you rolled the dice and the only way to break free is to play for keeps!
THE HEIST
You're the coolest cat burglars the world has ever seen. But maybe this job is too big even for you. Getting into the famous art gallery was easy-peasy. Grabbing he paintings was a doddle. But now comes the tricky part, getting you and your newly acquired paintings as far away as possible or you'll be eating porridge for a very long time.
MISERY
What happened? Your car broke down, a friendly nurse came and helped you. But now you're trapped in her house. Who is she? What does she want? And who is the author who left clues all over the house and seems to have been her last victim? All important questions but not as worrying as; How far will she go to keep you locked inside?