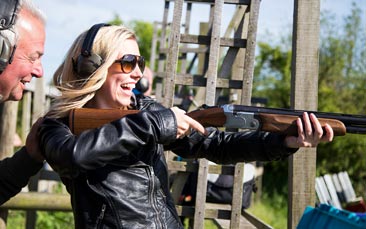 If you're going to try something active on a hen weekend, then you might as well do it properly. With GoHen you can pack your day with a selection of crazy activities that will get the hens competitive spirits going and let them all try a totally new experience.
We have a whole selection of activities to can choose from. You can select any of the available activities.
Mud Buggies - They really do live up to their name, these funky four-wheelers will tear through any course at roughly "Waaaahhhhh" miles an hour!
Exploding Archery - Because normal archery is for wimps. You've seen the movies, now it's your turn to hit an exploding target in this great target competition.
Clay Shooting - Feel like proper country ladies as you try this gentrified sporting. Ideal for competitive hens.
Blindfold Driving - You take the wheel blindfolded as your team give you directions. Which team will navigate the course the fastest?
Quad Biking - Off-road driving simply doesn't get better than this!
Clay Archery - Shoot arrows at fast-moving targets. A really sporty challenge.
Crossbow Shooting - A simple competitive shootout to see who can hit the most targets.
Paintballing - Total hen party mayhem and real GI Jane stuff for adventure-loving gals!
Axe Throwing - Not just good fun but also handy training for a zombie apocalypse.
Assault Rifle Shooting - Who will be crowned Top Gun' and who couldn't hit Beyonce's bum with a bazooka?
Segways - Weird and wacky upright electric vehicles and absolutely brilliant fun to drive.
So pick your activities and prepare for an incredible hen party in Bristol!