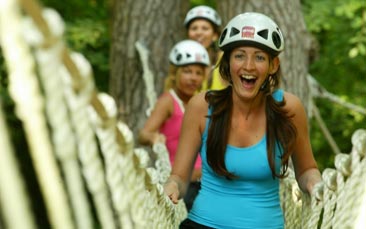 If you're looking for extra thrills and challenges for your bride-to-be then you're sure to love this. Our Bristol ultimate hen challenge will be a total blast for your group of adventure-loving hens. You will be treated to a variety of amazing activities, as well as a delicious lunch to keep those energy levels high.

Rather than being stuck to trying just one new challenge, your day will be action-packed with a variety of fresh activities for you to tackle as a team and overcome on your own during a day that the girls will be talking about for years to come.

These fabulous challenges could include:
High Ropes - This massive part of your day is broken up into a series of hen-tastic challenges.
Jacobs Ladder - A great team challenge, working together you'll look to scale new heights.
Triple Balance Beam, High Incline Beam & Multi Vine - At last, those years of ballet training will come in handy as you try to stay perfectly balanced.
High All Aboard and Leap of Faith - 14 meters in the air, there is only one way down. 3... 2... 1... Jump!
Crate Stack - Build a giant crate tower as high as you can while climbing up each level you add.
Quad Biking - Feel the need for speed as these fantastic all-terrain vehicles will take on pretty much any obstacle you point them at.
Archery - Who will emerge as your hen party's sharpshooter during the most competitive element of your day.

A tasty lunch of burger and chips will certainly be welcome and it'll make sure the hens keep up their energy for the rest of the day's activities. Scores will be kept throughout the day to see who ends the day as the biggest thrill-seeker and the party's very own Lara Croft.

Our ultimate hen challenge is a fantastic day out and it's a great way to get your Bristol hen party off to a roaring start!