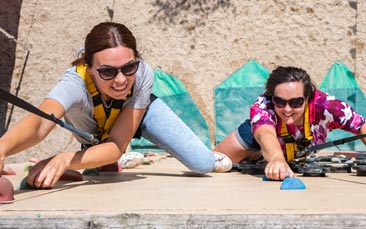 While some hen parties might be happy sitting in robes and balancing cucumber on their eyelids others want to get out into the great outdoors, conquer their fears and get their hearts beating. This is a huge day out in every way and something you'll all be talking about with the girls for a very long time.

Help the bride to be in forgetting all about the difficulties and stresses of arranging the big day by sending her up into the treetops to take on some nerve-wracking and thrilling activities, helped along by her favourite girlfriends of course!

You'll tackle some massive challenges and laugh in the face of gravity during a morning or afternoon of hen thrills and white knuckle action! The session consists of the following adventures:

Climbing
Get high on 30 minutes of exciting climbing elements, including the gladiator challenge, the 30-foot high wire ladder, the wolf print climbing wall and bouldering. With state of the art auto-belay devices (which keep you safe at all times and land you gently back to terra firma), you will climb as high as you feel comfortable, and then let go and glide gently to the ground.

The big leap
After scaling a 30-foot wooden pole up to a small platform, there is only one way down; to make the giant leap into a suspended inflatable bag! If you are feeling braver, the distance can be increased.

3G Power Swing
A perfect activity for any hens looking for a breathtaking adrenaline rush; you will be strapped into a paragliding harness, pull the rope and then gravity will do the rest...

The ideal activity for a thrill-seeking bride and her hens on their Bristol hen party.