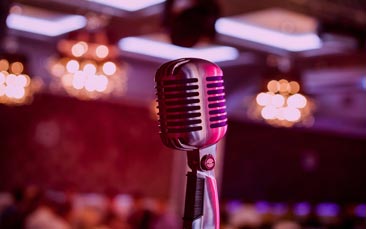 When it comes to top comedy venues, Bristol really is having a laugh! This West Country gem of a city has been a hotbed of brilliant comedy action producing some of the country's best loved funny faces;
Stephen Merchant
Russell Howard
Miranda Hart
Mark Watson
David Walliams
All these comics have strong comedy roots in "Brizzle" and the excellent comedy venue has become a great place to find the biggest new stars on the comedy circuit.
Your evening will begin with ticketed entry (no queueing for you, you're on a mission for laughs so we don't want you getting stuck in queues!). Once inside you'll find a reserved table. You can pop to the bar for a few glasses of something suitably fizzy to suit the mood.
The show starts with a great comedy compere who'll kick things off before introducing the evening's acts. You'll typically find 2 comedians on an evening (this number might vary depending on the type of acts or length of their material). This will be new rising stars and you might well see faces you'll recognise from TV comedy panel shows such as Mock the Week, QI and 8 out of 10 Cats. It's also not uncommon for huge established stadium acts to visit comedy clubs to try out material ahead of UK tours or the Edinburgh festival.
Once the show is over you'll have guest list entry to one of the city's hottest nightclubs.