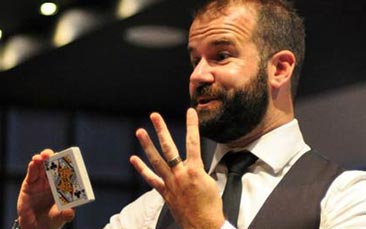 Pick an evening, any evening, look at it, put it back. Is THIS your evening?
Well if it's not packed with huge laughs and a secret magical theatre then you've got the wrong evening.
Welcome to a night of smoke and mirrors, with a touch of "How DID he do that?!?", and a whole heap of laughs.
On entering you'll be greeted by a close-up magician who will bamboozle you with his amazing sleight of hand. Hold on to your watches, hide your mobile phones and if he asks for a volunteer then all point at the bride-to-be. There is also a bar where you can order drinks and get a bite to eat.
At 7:15pm you'll be directed to the intimate theatre by your host who will seat you at your table and take your interval drinks orders which shall be brought to you. The magic theatre holds just 44 guests, here a full-scale magical show will take place with you sitting really close to all the action, seeing every small movement and shake of a magic wand (Spoiler; there are no magic wands), which makes the magic all the more mystifying. The show itself starts at 8pm giving everyone time to sort their drinks and any comfort breaks (never leave a room when a magician is watching you, they're sure to pick you out for their next trick).
The show will begin with the resident compere who'll give you a rundown of all the action you're about to enjoy. Two comedy magicians will then have just as much fun as the audience as they tease you with some incredible tricks. It's like Britain's Got Talent without the 70-year-old bell ringer or anvil juggler.
After the show (10pm) you can stay in the theatre to meet the magicians or head back to the main bar where there'll be live music. This really is a night out with a difference.