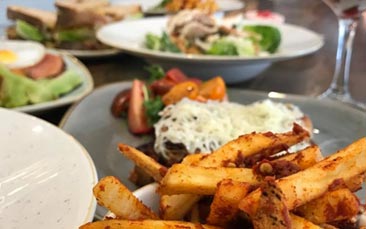 Who doesn't love eating? Combine that with great friends and an absolutely fabulous cocktail menu (yes, we have been and sampled it for you, you're welcome!) and this is a perfect starting point for a memorable night out.
The funky British bistro serves contemporary dishes with a nice varied menu to suit even the fussiest of hens (we won't name names). The restaurant is available to cater for anyone with specific dietary requirements so that all the hens will be able to enjoy some tasty cuisine. You can also choose either two courses or three-course dining to suit budgets, tastes and a need to get to the dance floor.
The restaurant has a nice trendy feel, great design and good party vibe at the weekends when young drinkers and diners fill the tables of this very popular diner. Your table will be waiting for you, your bill will be pre-paid, you can even pre-order your dishes. Everything is planned to take all the hassle out of your evening, no walking around the streets trying to find a table big enough for your group, just turn up and tuck in. That also means you're free to join in the fun as much as everyone else without trying to plan and organise things as you go along.
Starter
Smashed avocado
Halloumi fries
Whitebait
Main
Fish & chips
Pan-fried salmon
Cheese and bacon burger
Vegan Moussaka
Desert
White chocolate cheesecake
Rhubarb and custard
Vegan chocolate parfait
Please note; This is a sample menu and may be subject to seasonal changes.
Definitely one of our favourite places to eat and we're sure it will be a hit with all the girls on your Bristol hen party. And if you're going to hit the cocktail menu (and we believe you should) then we can heartily recommend the Panic at the Disco. Cheers!