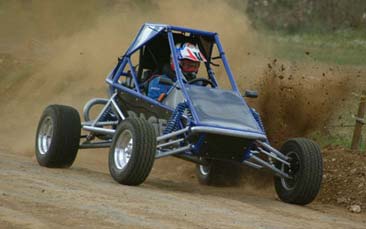 If you've ever sat in traffic and just wished all the other road users would disappear leaving you the open road all to yourself then we have the perfect cure for your road rage... And these vehicles are very angry indeed.
Rage buggies are essentially the Tasmanian Devil of the driving world, crazy little beasts that will chew up and spit out any terrain you point them at. And they are absolutely brilliant fun to drive! You don't need to be a Jeremy Clackson fan or petrolhead to get the most out of Bournemouth hen party rage buggies if you like extreme thrills and love the idea of really putting your foot down then you're in luck.
The off-road track has been specially designed to give you the most va-va-voom possible as you tear around the track at roughly "AAAAaaaaargghhhh!" miles an hour. You can either just drive for kicks and enjoy the ride or if you're a little bit more competitive (and let's face it girls, most of us are) then you can go full tilt and race in time trials to see who can make it around the course the quickest.
This is fast and furious fun where you really can let rip like never before. The Rage Buggies are fitted with superb suspension, racing safety harness and roll cages meaning you'll be kept totally safe inside. You can even feel yourselves getting a little bit airborne over the bumps and jumps of the track as you go full throttle. After all brakes after for nervous people!