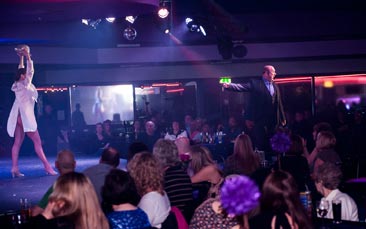 Cabaret is back in style and it's gorgeous! Thanks to the rise in shows like Britain's Got Talent, cabaret and variety artists are making a major comeback and Blackpool is the home of British cabaret. Taking place in one of Blackpool's most popular and successful venues this amazing night out really is a star of the show.
Doors open at 6pm and yes, the show is so popular there will be people queuing to get in. But don't panic, if you don't want to be rushed you can take your time as the amazing show doesn't begin until 8:15pm.
The show is packed with style and has a touch of Las Vegas about it. A mix of production show numbers, hits across the decades, with sequins, feathers, glitz and glam. There are also heaps of laughs with a hilarious drag queen compere holding the whole show together and acting as your host for the evening. Produced by the award-winning Stageworks Worldwide Productions this really is true variety, with something for everyone and fans of dance and shows are in for a treat. The stage is lit with an LED screen allowing for stunning visual effects along with impressive stage lighting in a fast-paced production. Big laughs, big costumes and a big night out.
You can also add a 2/3 course meal to your package, please ask our team for details.
Sample Menu (subject to seasonal change)
Starters:
Chicken Liver - Served with pork pate, chorizo jam & crackers
Roast Leek & Sweet Potato Soup Served with warm bread (v, gf)
Thai Fishcakes Served with sweet chilli sauce
Wild Mushroom & Toasted Walnut Pate - Served with crackers & sticky apple sauce (v, ve)
Mains:
Chicken Breast - Wrapped in streaky bacon, stuffed with mustard & tarragon sausage-meat, with a rich red wine sauce
Barbeque Honey Roast Chicken (1/2) (gf)
Poached Fillet of Cod - Served with Lancashire cheese, cream and parsley sauce
Vegetable Wellington - Served with a rich tomato and basil sauce (v)
Moroccan Spiced Beans Served with sweet potato, mango and herb rice (v, gf, ve)
Gammon & Chicken Pot Pie - Served with creamed leeks & pancetta
Desserts:
Toffee Honey Crunch Cake (ve)
Caramel Apple Pie (gf)
Vanilla New York Cheesecake (gf)