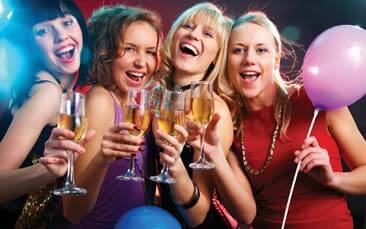 When you head to any new town it can take awhile to find your bearings and pick the best bars and clubs to visit but with our Blackpool bar and club pass, you'll bypass any time-wasting and be able to head straight to the hottest venues. It's the perfect way to let your hair down and enjoy plenty of fabulous cocktails and dancing long into the night. It's like Willy Wonka's golden ticket except for grown-ups!

We've already handpicked the venues to ensure you're in the best places to party and raise a cheeky glass or two to the guest of honour and help her create some lasting hen party memories.

We'll also arrange guestlist nightclub entry for the whole party, your pass will be pre-paid so there'll be no hanging around in queues, simply give your party's name at the door and you'll be hitting the dancefloor faster than even the most excitable hens can shout "Oh I love this one!"

It's the perfect way to ensure your nighttime festivities are all taken care of and keep the group together (which on some hen parties can often feel like herding kittens!?!).

Sing like no one is listening, dance like no one is watching and laugh the night away like it's the bride-to-be's big weekend! No queues, no fees, no fuss, just a great night out the whole party will love.