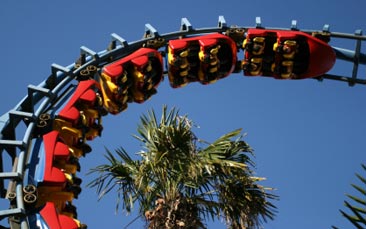 Do you and the girls love an adrenaline rush? Are you after some awesome thrills on your hen weekend and you just don't know where to get your fix? Look no further ladies, this Benidorm theme park will see you and the girls taking on some truly amazing rollercoasters that'll have you screaming with delight!
This theme park really is Spain's answer to Thorpe Park. It's found just outside Benidorm in the middle of some amazing scenery including palm trees and greenery. In the park itself, there are over 17 thrilling rides for you all to try including rapids, log flumes, some super-fast coasters as well as a mahoosive ride that'll drop you a terrifying 150 feet.
This is an amazing way to have some real fun while testing your nerves! All the girls are bound to feel a little nervous when they get an eyeful of some of the parks most terrifying rides. But after they've conquered even the biggest rides in the park they'll have a huge sense of achievement.
The park itself is gorgeous too, with different themed sections based on other countries like Greece, Egypt and Liberia and you'll be able to have a wild time in each and every one of them. If you're really lucky, you might even be able to catch one of these theme parks incredible live shows, and you'll definitely enjoy its wide variety of restaurants and eateries.
You'll have a simply amazing, unforgettable time with some awesome, white knuckle rides that are sure to get all the girls smiling and excited for that big night back on the town.