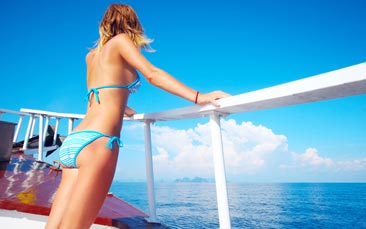 Get away from the tourists and family friendly restaurants and make your own kind of fun on board your very own private catamaran. This is the kind of dream day that hen parties were invented for!
The adventure begins with you being picked up from your hotel and taken to the boat. The skipper will welcome you all aboard and set sail along the stunning Mediterranean coast. The petrol-powered cruiser (no slow sails here!) will skim the water, on board there are padded mattresses but still bring you beach towels to spread out and work on those pre-wedding tans.
It's your charter so you can do what you want. Bring your own drinks (or pre-order them so they'll be waiting for you), you can also bring your own snacks/lunch. And you can decide whether you want to go completely overboard. Yep, you can head to secluded bays and dive right in to the crystal clear water. Bring snorkels to really make the most of it. But that's not all, the catamaran even has a sound system so you can play your own hen party playlist.
Girls Just Wanna Have Fun - Cyndi Lauper
All The Single Ladies - Beyonce
Goodbye - Spice Girls
It's the End of the World as We Know It - REM
Dancing Queen - ABBA
Happy - Pharrell Williams
Uptown Funk - Mark Ronson ft Bruno Mars
At the end of your fantastic cruise you'll be picked up and taken back to your hotel.