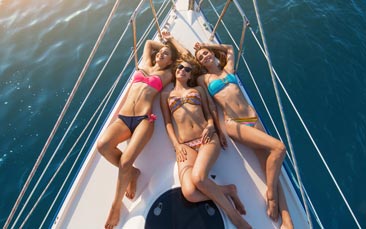 If you really want to create lasting hen memories and perhaps the coolest hen weekend of all time then this is most definitely the place to start.
OK, we're going to paint a picture; imagine sitting on board a boat, skimming over crystal clear Mediterranean waters, a chilled glass of wine in hand, the sun glistening off the boat's rails, in your other hand a microphone as you and the girls sing out one of the favourite hen party karaoke tunes "All the single ladies... Woah, oh oh oh..."
This fab day will begin with transport from your hotel to the boat. You'll then step aboard the 14 metre Flybridge Cruiser and be greeted by the captain "Ahoy therrre ladies!" (he's a captain not a pirate!). Once you're all safely on board you'll set sail for Peacock Island. Once there you'll drop anchor and enjoy swimming or snorkelling.
To keep you suitably hydrated you'll have 20 cans of beer or 6 bottles of wine or cava (you can add more beers, please ask for details).
And to complete the party mood you can play your own music through the boat's sound system and there's even a karaoke machine to belt out your favourite party anthems. Because girls just want to have fu-un!