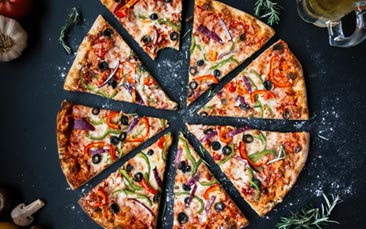 There's nothing worse than wasting a night out, walking the streets trying to find a table big enough to seat all 14 of you, on a busy weekend, in one of the most popular party destinations. "Ain't nobody got time fo' that!"
What you want is a nice hassle-free night with great food, free drinks and everything booked and waiting for you. Well hello GoHen!
Yes, we'll have it all sorted, all you need to sit down, tuck in and drink up!
Menu
Antipasti to share
Focaccia con Mozzarella - Pizza bread with cheese & garlic
Bruschetta - Toasted bread with tomato, basil & garlic
Insalata di couscous al Profumo di Mare - Couscous salad with shrimps, apple & pesto
Pizzas
Margherita - Tomato, mozzarella & basil
Volpe - Tomato, mozzarella, ham & mushrooms
Pepperoni - Tomato, mozzarella & salami
Tropical - Tomato, mozzarella, ham & pineapple
Diavola - Tomato, mozzarella, spicy chorizo & chilli
Barbacoa - Tomato, mozzarella, sliced beef & BBQ sauce
Mains
Tagliatelle Alla Bolognese - Pasta with minced beef and tomato sauce
La Carbonara - Pasta with a cream & ham sauce with parmesan & pepper
L'Arrabiata - Penne pasta with tomato, basil, garlic, chilli & parmesan
Spaghetti Genovese - Spaghetti with Genova pesto, onions & parmesan
La Vera Caprese - Tomato, buffalo mozzarella, basil & pesto
Cesar Salad - Romaine lettuce, roasted chicken, parmesan flakes, croutons, anchovies & Cesar dressing
Desserts
Ice Cream - 2 scoops, 30 favours to choose from
Digestif
Shot of Limoncello - Free shot of the lemon liquor
Drinks
Your choice of beer, wine or soft drink - 1 drink per person, additional drinks can be bought