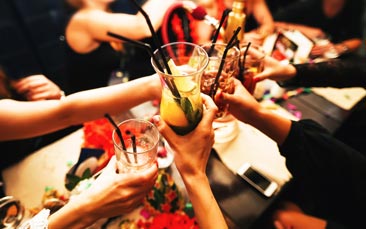 Casinos are cool, they're also great places to hang out with delicious food, ice-cold cocktails and the potential promise of having a little flutter and perhaps winning enough for that next round of cocktails.
Your table will be ready and waiting, we'll even make sure the bill is prepaid, so you won't have to do a Rachel Riley when splitting the bill. That means less hassle and more time for fun. You'll also get a drink each with your meal, a choice of beer, wine or a Woo Woo cocktail.
It's then into the casino which has all the standard games, roulette, poker, blackjack plus shot machines slot machines. You'll also get a glass of cava or one small beer each in the casino.
Typical menu
Starters:
Soup of the Day
Garlic Mushrooms - Sautéed mushrooms in cream, white wine and garlic.
Cheese Nachos - Cheese melted nachos with homemade salsa and special BBQ sauce. (V)
BBQ Ribs - Slow braised pork ribs in BBQ sauce.
Mini Thai Crab Cakes - Crabmeat blended with Thai herbs & spices and chilli sauce.
Prawn Cocktail - Delicious prawns and salad in a Marie Rose sauce.
Main Courses:
Chicken Curry - Chicken breast pan-fried in madras sauce with chips, rice or half & half.
Thai Green Curry - Chicken chunks in a medium/sweet Thai sauce, rice, chips or half & half.
Roast Beef With Yorkshire pudding and rich gravy.
Chicken in Pepper - Succulent chicken breast in peppercorn sauce.
Fillet of Salmon - Fillet of salmon in whisky and tarragon sauce.
Chicken New Yorker - Chicken breast wrapped in bacon with cheese and BBQ sauce.
Chicken Fajitas - Spicy marinated chicken in a tortilla wrap with sizzling sauce.
Vegetarian Dish of the Day (V)
Sirloin Steak - Sirloin cooked to your liking and choice of sauce.
Desserts:
Banana Split
Hot Chocolate Fudge Cake
Peach Melba Crumble & Custard
Cheesecake
Trifle
Banoffee Pie
Sponge & Custard
Profiteroles
Ice Cream
* Menus may change seasonally.