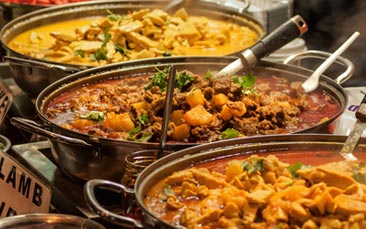 You've got just 48-hours to give the bride-to-be the greatest weekend of her life. So, you know, no pressure then. The top tip we always give is book ahead. Don't leave finding a restaurant until the last minute. What are the chances of finding a restaurant that has a table for twelve people free on a busy summer Saturday night in the heart of Benidorm? Yeah, any restaurant that has that many free seats on the busiest night of the week is probably not somewhere you want to eat.
That's where GoHen come in, we've done the legwork, found the best restaurants and we can have everything booked and paid for in advance. All you need to do is dress up, turn up and eat up. It's a great way to take all the hassle out of the night. Especially pre-paid dining, we've all sat at the end of those meals when the bill is being discussed, "But Tina only had two breadsticks and 15 glasses of wine, so she shouldn't have to pay as much…". Your table will be ready and waiting for you, the two courses will be delicious, you'll have some drinks included, sundries are taken care of, even the bill is sorted. It all allows the organiser to have fun and relax with the rest of the girls.
Each of the hens can tuck into poppadom's and dips, a starter, main course, rice and naan plus a choice of a half bottle of wine or two beers each.
Sample menu (please note, seasonal menus may vary)
Entrees
Starters
Onion Bhaji
Chicken Pakora
Chicken Tikka
Meat Samosa
Mains
Chicken Tikka Masala
Chicken Madras
Chicken Korma
Lamb Rogan Josh
Lamb Curry
Plus your choice of rice and naan bread.
Drinks
1 beer or a glass of wine
Additional drinks must be paid for separately.