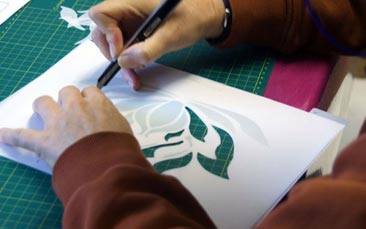 Not every hen wants an intense or physically gruelling activity ahead of their big day. That's exactly why it's great to get together with your favourite friends for a session of arts and crafts that'll let you relax and have a giggle with your girls.

Naturally, this is a special time for the whole group and being knackered before a big night out is not always welcome. Sometimes you just want to spend quality time with the girls and do something unusual and unique. So, why not get creative at this screen printing class? Your girl-gang will all be working together and be able to have a great laugh in this fun and fulfilling workshop.

Screen printing is big business and lots of top designers have used the process to create catwalk fashion. Head to London's Portabello or Camden Market or The Lanes in Brighton and you'll find brilliantly unique designers crafting one-off pieces. So, learn the craft and make your very own designer wear!

With our hen party screen printing class, you'll learn the tricks of the trade as our experts guide you through the process from start to finish and will give you plenty of tips to get started at home. Learn how to transfer permanent patterns and images onto fabrics, with the end result being a handmade, personalised tote bag you'll all keep as a memory of your weekend. This is a perfect activity for a hen group as anyone can join in and get involved, whether you're nifty with your hands or whether you are a total beginner!