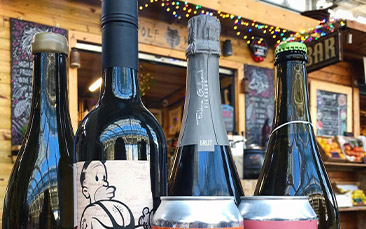 It's time to say goodbye to all those weeks of stressful wedding planning and say Chardon-heeeeyyyy to a wine-filled hen weekend. Yes, that's right girls, if you and the bride-to-be love nothing more than a glass of vino (or two), then we have the perfect hen activity for you! Learn all you could ever want to know about your favourite drink as you indulge in a variety of samples with the fantastic Bath Hen Party Mobile Artisan Wine Tasting activity.
Kick back in your accommodation as our expert sommelier (wine pro) comes to you. After the introductions are out of the way it's time to get sampling. Your skilled tutor will teach you the tasting techniques used by the professionals so you can learn to enjoy your wine to an even greater extent. Get ready to slurp, burble and dribble as you get your tongues around the fine art of wine tasting.
Over the course of ninety minutes, you'll be introduced to five craft wines: one fizz, one white, one orange/rose and two reds. You'll get to enjoy a half glass (75ml) serving of each as you make your way through the wine rainbow. "I'm getting… tipsy!"
All the wines are from small, artisan producers from all over the planet. Each of the bottles will be covered and the hens will partake in a great guessing game where you try and decipher the flavours and where they're from. They'll also bring along a variety of foods which pair well with each wine. "Wine and now food, you certainly know the way to a girl's heart!"
But you aren't going to want to let the fun stop when this great activity finishes, you're gonna want to hit the town and put your new tasting talents to the test! Head out and explore some of Bath's amazing pubs and bars. If you want to carry on the party, be sure to include our Guestlist Nightclubbing so you can guarantee entry to some of the hottest clubs and bypass the queues. Contact a member of our team today for more info.