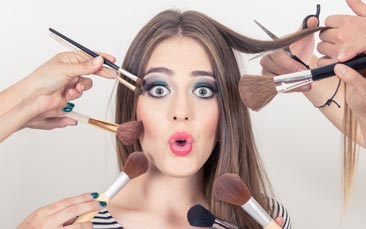 Everyone likes to look good, it's often the first step to feeling great and while we all might think we know what works for us, sometimes a little advice from the pros can go a long way.
This fabulous hen party makeover workshop is as informative as it is fun as you rediscover makeup all over again. If you tend to stick to the same makeup routine our experts can help you find new techniques and create new looks to suit your skin tones, without the hassle of trawling through hours of YouTube tutorials.
You'll cover a load of make-up tips over the 2-hour course. An introduction to brushes & techniques starts the session, before moving onto eye shadow blending. Always been too scared to attempt smokey eyes? We know we have. But fear no longer as your make-up pro shows you how to master this skill.
Whip out the blusher for the blushing bride-to-be. With a flick of a magic wand (or brush), you'll learn how to apply a pink cheek or bronzed effect to suit your skin tone. According to experts, most people go wrong when it comes to knowing what products are right for them and their skin. This can be colour, texture or even ingredients, so pack in plenty of questions to you make the most of your makeover.
As well as working with experts, you'll also be using premium and professional makeup from MUD and TEMPTU Pro. The expert will work with each hen individually to help you all create perfect tones and colours and perhaps discover subtle new looks.
As well as top of the range products and expert makeup professionals the session also includes fresh cold press raw juices and pastries.
Not only is this a fun and interesting session but these are skills you'll be able to take away and use in the future as well as giving yourselves a fabulous makeover for the night ahead.