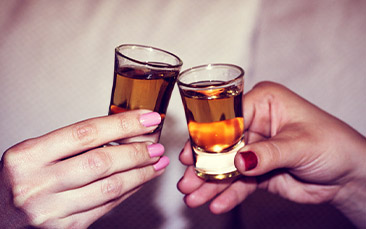 "You can lead a horse to water, but you can't make him drink. You can take the hens on a bar crawl and they'll party into the early hours!" Why do people always miss off the second half of that phrase? Well not at GoHen we don't! That's right ladies, make sure your party properly on your fab trip to Barcelona with the amazing Hen Party Bar Crawl.
At 9.30 pm the action begins when you and the girls meet up with other party-goers in the first bar. Here you'll enjoy some tapas and a glass of sangria or a beer before the party really kicks into gear. In total, you'll visit three of Barcelona's best bars before you finish off with guest list entry into one of the hottest clubs in the city. "Tell. Me. More!" On arrival at each venue, you'll receive a welcome shot to keep everyone in party spirits and there'll be drinks discounts in each, so you get more for your money!
Your guides will take you to the very best drinking spots and help you to avoid all the tourist traps you might be vulnerable to if you and the gals went off on your own. We've all been there - in a new city not knowing where the best places are to go, finding yourselves in an empty bar paying over the odds whilst people are having ten-times the fun elsewhere. Well no more. This time you'll be in amongst the action in possibly the best party in the city!
The celebrations keep on rolling until the early hours, too, as you hit the dancefloor in the club and show off your best moves. So, c'mon ladies, take the hassle out of proceedings and ensure you give the bride-to-be the perfect send-off into marital life with this amazing Hen Party Bar Crawl.