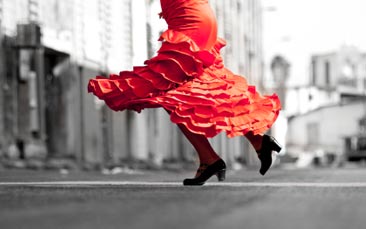 Barcelona is an exceptionally vibrant city; it's full of culture, history and amazing sights, sounds and smells. But nothing sums up the heart of this incredibly passionate city better than tapas, sangria and flamenco.

Experience all the exotic flavours of southern Spain in one night of vibrancy and colour. The girls will love this traditional Catalonian experience where you'll set the pace for what's sure to be an amazing weekend.

Our English-speaking local guide will meet you and take you to a gorgeous traditional Spanish restaurant where you'll have the chance to taste different kinds of tapas and delicious sangria, all prepared by an experienced local chef.

After your Spanish feast, you'll tango on down through the mazed Gothic Quarter to one of Barcelona's oldest flamenco venues. There you and the girls will experience the magic of a flamenco dance performance. Amazing, colourful costumes, flamenco rhythms, it's all here. Delivered by two guitarists and one dancer, you'll be treated to a show that you won't forget long after you've left this enchanting venue.

This tapas, flamenco and club activity is the ultimate Spanish experience. It's the perfect way to get your Barcelona weekend off to an amazing start, and it's sure to thrill the bride-to-be and put a massive smile on her face as well as giving the rest of the girls a great taste of this bewitching part of Spanish culture.

After the dance, why not head down to a local club to try and do your best flamenco impression on the dance floor? Although we can't guarantee you'll be as graceful as the professional dancer was with a Taylor Swift backing track...