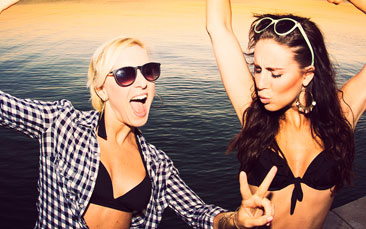 There's no point going to Barcelona (one of the world's greatest party cities) and not partying like A-listers! This fantastic Barcelona hen weekend party cruise is one of our hottest hen party activities and a real must if you want to make a truly memorable weekend for the bride to be.
You'll be welcomed aboard by the friendly crew and experienced skipper and once the gorgeous white catamaran sets sail the party really will kick into life.
This gorgeous sun-kissed adventure includes a live DJ and a great sound system so you can party on the Med during what is sure to be the highlight of the weekend. Each hen will enjoy three free drinks but you can set your own pace; head straight onto the deck and dance in the open air, hang back and enjoy your drinks, spread out on the netting and work on those wedding tans or just sip ice-cool drinks while listening to the top tunes. The cruise also has a party crew who'll take charge with some team games and drinking games you can watch or join in with.
The catamaran will drift lazily along the beautiful coastline, breezing through the crystal clear Mediterranean waters as you sip, dance, laugh, drink, cheer, sing and party like never before.
This really is your night to enjoy and you won't be alone, the catamaran can hold up to 100 fellow party people so you can expect a fantastic atmosphere as everyone parties in the sunshine to make this a night to remember.