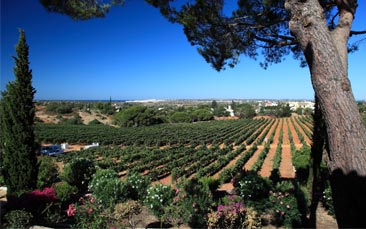 First things first... This isn't just any vineyard, but the vineyard and winery owned by none other than the Peter Pan of Pop, Sir Cliff Richard! Yep, that means plenty of pop puns and quips as we tell you all about this stunning hen party escape.
You and the rest of the living dolls can wish the bride-to-be congratulations at this fantastic working vineyard. The exclusive tour of the winery will take you behind the scenes to see how this wonderful tipple is made, from planting, growing and harvesting the grapes to the finished bottles and mistletoe and wine. This is an absolute must for any hens that are partial to a glass or two and would like a little more foodie knowledge.
During your mini summer holiday, pre-wedding vacation you will no doubt be enjoying a glass of vino or two away from the bachelor boys and this great day allows you to sample the award-winning Vida Nova & Onda Nova wines, all of which are vinified, matured and bottled on the estate. You can sample reds, whites and rosés without getting wired for sound. It's the perfect way to toast any bride to be, even a little bitty pretty one.
A vineyard tour and wine tasting really will add a touch of class to any hen weekend. Situated in the glorious Portuguese sunshine, the vineyard extends as far as the eye can see in a quiet breathtaking vista that only some people ever get to enjoy.
You'll enjoy a full tour and learn about the winemaking process from vine to bottle. Then, of course, there is the fabulous tasting session to bring out the devil woman in you as you raise a glass or two to the bride-to-be.
And in case you were wondering, that was 10 terrible Cliff Richard puns. You're welcome!