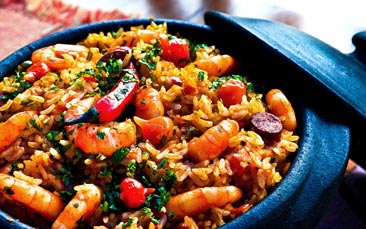 If the bride-to-be has cultural culinary aspirations and is a bit of a foodie then this is a fabulous afternoon spent under the guidance of a professional chef. Oh, and of course there's eating and drinking involved (well it is a hen party after all).
You'll get to choose between a Valencian Paella, or an assortment of traditional, seasonal tapas. Your chef will greet you and tell you a little bit about the history of your chosen dish. After this brief knowledge filling it's time to get your aprons on and get cooking. The expert will show you how it's done, imparting special tips and handy local secrets to create truly authentic dishes unlike anything you'll find in recipe books back home. Having seen just how it's done you'll then need to get busy.
You'll all have a go at making the dishes, all the tools you'll need will be provided along with enough ingredients for all the hens. You'll get to taste as you work, using fresh local ingredients. You can also ask your chef about other cooking skills and tips. It's a great way not just to learn to cook a new dish but improve your cooking skills and get a deeper appreciation for Spanish cooking and the national culture centred around making and sharing food together.
Of course, all that cooking is hungry work, so once your dishes are complete, the proof is in the tasting. You'll all get to sit down together and enjoy each other's dishes along with your chef who'll be able to tell you just how you got on and how you can recreate the dish back home. Along with your food, you'll also get a glass of wine or sangria each.