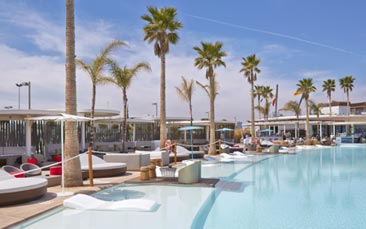 This is exactly how life should be done. Chilling out with friends, working on your tans, sipping ice-cold drinks under clear blue Mediterranean skies. It really is exactly what the bride to be ordered!
After weeks of often stressful wedding planning the bride-to-be will be itching to get away with her best and closest friends, so it's only right you do it in style. The gorgeous and super trendy beach club sits in Real Juan Carlos Marina, overlooking the glorious sands of the beach but is wonderfully exclusive. Inside you'll be shown to your reserved sun-loungers (no towels on the beach for you, hell no) where you can all spread out and relax.
You'll see the stage for all the evening's action (this is one of the best clubs around) but cool beats can also be heard during the day. They mix perfectly with this ridiculously good cocktail menu ("if you're not drinking cocktails on a sun-lounger on the hen party then you're doing it wrong!"). There's a simply amazing restaurant plus there's bar to get a few drinkipoos. Well, we wouldn't want you getting dehydrated.
This really is what hen weekends were invented for, sunshine, good times, great tunes, best friends all while enjoying good food and cold drinks. It's the perfect cure for all that pre-wedding madness the bride has had to go through and the dream weekend we all wish we could enjoy more often. But now you can, sun, sand, sea and smiles, miles of hen party smiles! It's a fast track to hen party memories the bride can treasure forever!