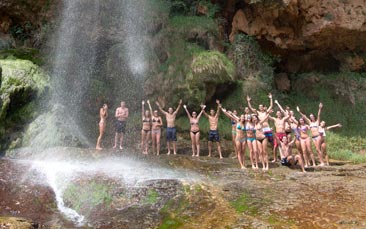 Explore Valencia's great outdoors and have the ultimate day of rejuvenation amidst some striking surroundings with a visit to Valencia's amazing Hot Springs. This full-day adventure takes you to Valencia's most breathtaking nearby sights, where you can admire the natural splendour of the waterfalls, dip into the hot springs and explore the Blue Lagoon and its caves!

Our Valencia hot springs adventure really is unlike anything you'd find back in the UK, step into a wonderland of natural waterworks and get up close and personal with one of Spain's most charming locations as you go swimming, diving, snorkelling and cliff jumping. This is a full-on day of exploration, but when you're in surroundings this attractive you really won't find it difficult to get totally lost in the fun you and the girls will be having in this watery haven.

You'll be amazed by the power of the huge horizontal blasts of water fired from the famous 'pony tail' natural jet, and the girls are sure to giggle as they have a free fish pedicure (this will definitely tickle a bit, but the end results are amazing).

This Valencia hot springs experience is a must for girls looking to get out of the city for the day to see some of the beautiful scenery around this fabulous Spanish destination. There's great fun to be had here, and you're sure to make some unforgettable memories as you explore this natural wonder.