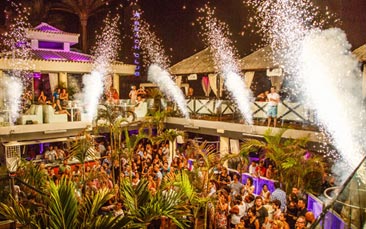 Some bars are cool, some are kind of funky, some bars are a little bit 'boho' and then there are those that are quite simply legendary!
This is, without doubt, the coolest place to party in Tenerife and no visit to the island could be considered complete without coming to the finest place on the island to watch the spectacular sunsets while listening to top tunes and living life to the full.
GoHen's Golden Ticket Entry
We've been known to enjoy the 'occasional' night out or three here at GoHen, and we have unrivalled access to the best bars, clubs and events throughout Europe and be able to get top rates that you simply can't buy at the door. Book this fantastic venue with GoHen and you'll get an incredible VIP night at unbelievable prices!
Not only will you get prime time entry to enjoy the stunning sunset, you'll also get access to one of the highly sought after cabanas. And it doesn't stop there... We can't let you and the girls get thirsty so we'll arrange 300 euros worth of drinks to keep you hydrated while you watch the sunset and chill out to top summer tunes. Each cabana holds up to 10 hens and comes complete with Balinese 'palapas' beds and incredible sea views across Troya Beach.
This is the place to see and been seen on the island and the place that everyone wants to be seen. There's also amazing restaurant and superb cocktail mixologists so all the hens can dive right into the cocktail menu.