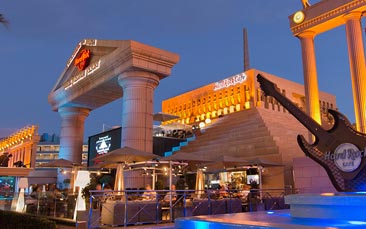 It's the most famous music restaurant in the world and the Hard Rock Cafe chain has been home to some amazing gigs; Coldplay, Paul McCartney, Aerosmith are among the names to have played there.
Now you can get your rock 'n' roll chops around some great food while surrounded by amazing pop memorabilia and within easy reach of the Hard Rock's legendary desert and cocktail menus (seriously if you simply haven't lived until you've tried a Hard Rock pudding!)
Your table will be ready when you arrive and with a prepaid, set menu which will cut down on all the fuss and means there's no messing around with the bill.
There are two meals to choose from;
Gold Menu
Twistedmac Chicken & Cheese
or
Original Legendary Burger
or
BBQ Chicken
and
Ice cream
plus
Beer/wine/soft drink
Or you can upgrade to the Platinum Menu
Potato Skins,
and
Hickory smoked BBQ ribs
Or
Grilled salmon
Or
Original Legendary Burger
And
Ice cream
plus
Beer/wine/soft drink
This is a hassle free way to get your night off to a great start and with fantastic food and drinks on offer you know all the hens can tuck in and enjoy a fine meal with the bride-to-be as guest of honour.