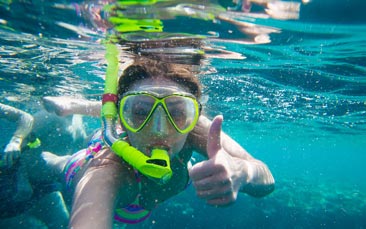 Give your hen party some serious je ne said quoi and take the girls for a snorkelling experience in the clear waters of Reykjavik's fabulous Silfra Fissure! Set in the midst of UNESCO World Heritage endorsed Thingvellir National Park, a must-see Icelandic site in itself, the Silfra Fissure boasts the clearest waters in the world, with pristine visibility allowing memorable views of Thingvellir Lake and its brilliant colouring of algae and minerals.

Once you have all changed into your top quality snorkelling equipment you'll be able to explore the clear underwater world of the tectonic rift valley in the world-famous Silfra Fissure, a narrow canyon found between the continents of America and Europe. Therefore not only will you be having the experience of a lifetime, but you'll also be swimming between the continents!

You don't have to worry about swallowing the water either... it is freezing cold glacial water that's been filtered through porous underground lava from anywhere between 30 to 100 years; perfect for clearing away a naughty hangover.

The water in the Silfra is some of the most clear, and purest in the world - the underwater visibility is exceptional! You won't need to have any experience to try your hands at this as our expert snorkelling instructors will talk you through the whole session so you'll be in good hands to get the most out of the experience! Don't forget to get together in your snorkelling gear for a hen party group selfie like no other!