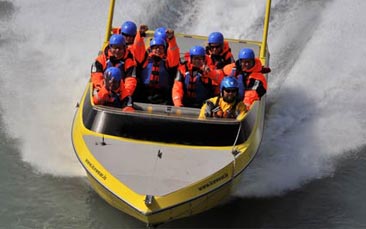 Hold on to your hats on what is one of the most exhilarating hen adventures anywhere in Europe. This high speed, adrenalin pumping ride really does take the breath away as you zip through a quite simply stunning landscape of basalt rocks and canyons. Our Reykjavik hen party jet boat ride is most certainly not for the fainthearted but something the hens will be buzzing about for days.
You'll start at a nice relaxed pace, being picked up from your accommodation and taken to the river. On arrival you'll be greeted by the friendly instructors who'll give you a quick rundown of the journey ahead and get you all kitted up with waterproof suits, helmets, gloves and life jackets. Once all the hens are dressed and ready for action its pretty much hen party law that you pose for a group photo.
It's then all aboard and belt up (in the nicest possible way) as you get set for a ride unlike anything you have ever experienced. You'll gently push through the shallow water before the canyons get smaller and the water gets faster. The pilot will open up the throttle and you'll soon be flying over the water and through tight canyons, at some points just five metres wide, so close to the rock face you can almost touch it. And if you're stomach and heads can take even more he'll also turn the boat into 360 degree spins to take the thrills up yet another notch!
It's a once in a life time ride that simply can't be found anywhere back in Britain and something that hens will remember for a very long time. Although probably best not to try and recreate it on the local boating lake back home!