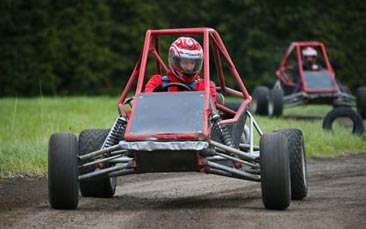 Ok, everyone's own personal bucket list does tend to vary, but one things for sure, most people's bucket list is full of once in a lifetime activities. But one tick just one thing off your bucket list when you could achieve three?

Our hen party bucket list challenge will let you choose from between 1 and 3 amazing activities to give you a day you'll never forget

Hover Crafts
Madder than a bag of badgers, hover crafts are completely bonkers to drive but great fun. You'll need a deft touch and some slick driving skills to master these floating machines.

Off Road Rage Buggies
The Tasmanian Devils of the sports where, point these angry little beasts at pretty much any terrain and they'll chew up and spit out the ground at roughly "Aaarrrghhhh!" miles an hour

Clay Pigeon Shooting
Your own hen party big bang theory, For those of you that have always wondered what it would be like to shoot a gun, now's your chance. With an extra sporting competition to make it competitive.

Axe Throwing
This is your chance to "go native" and learn how to throw Native American tomahawks. Not a skill you might need in everyday life but it could come in handy if ever there's a zombie apocalypse.

Quad Biking
Just about the most fun you can have with a crash helmet on! These 4 wheeled motor bikes are brilliant to drive but be prepared to get muddy.

Blind 4x4 Driving
You'll be driving blindfold with only your backseat passengers' instructions to help keep you on course. A great team challenge but who'll post the best time?

Laser Clay Pigeon Shooting
All the fun of clay pigeon shooting but without the bruised shoulder.

Crossbow
Another great sporting competition between the hens only this time you'll be using incredibly powerful crossbows.

Paintball
All out hen party warfare, with an added splash of colour. Split into teams you can go wild in the woods to give each other a Dulux makeover.