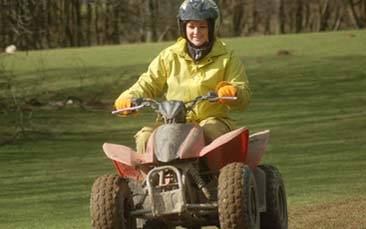 Perfect for action loving hens who want to do something completely different for their pre-wedding celebrations, this multi-activity day will give you plenty to laugh about.
All you need is a sense of adventure and a "She who dares wins" attitude!

Set across 50 acres of beautiful Oxford countryside custom-built for thrilling experiences, there are varied options to suit any group. Big speed and big bangs will accompany your laughs and the occasional scream as you race your way round some thrilling, edge of the seat action. A will to win and a hatful of girl power, this huge day out will guarantee a memorable weekend with the girls, especially if the guest of honour is well known for a competitive nature.

And we know you'll make the racing jump suits look goooood!

You are able to choose between 1 and 3 of these action-packed activities:

Quad bike trekking - Once you have gone through the basics, it is time to trek over a brilliant custom-build course with mounds and exciting obstacles such as 'Helter Skelter' and the 'Wall of Death'!
Honda Pilot buggies - These vehicles are renowned as the ultimate off-road vehicle for good reason; boasting 400cc's of power, they are fast and huge amounts of fun. First you'll have a practice to get used to the handling, then you'll go head-to-head in a time trial around the course.
Off road go karting - This dedicate outdoor track is perfect for you hens with a need for speed.
Blind driving - Do you trust your 'friends'? You will have to, as they are responsible for guiding you in this thrilling (yet a teeny bit nerve-wracking) activity.
Air rifles/pistols - Target shooting, desperately addictive but not packing too much of a bang, these guns are suitable for everyone to have a try at.