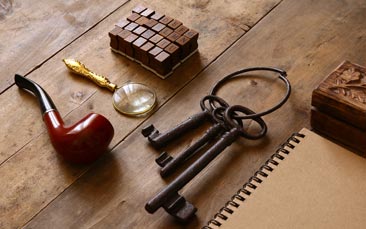 Think you have what it takes to stay calm under pressure? Even when the clock is ticking and the bad guys could be back at any second? Well, perhaps it's time to put yourselves to the test.
This is live-action gameplay where every second really does count. There are four rooms to choose from, once you've made your selection you'll step inside and the door will lock behind you. You'll then have 60 minutes to solve the puzzles and escape. There are no other prizes, all you'll get is your freedom. If you manage to win. But if not...
STAR BREAKER ROOM
You really will be all-powerful. You and your fellow hens will be building your own cosmos and making a means to break out of your own universe. This is hugely challenging and requires plenty of creative thinking.
SPACED ROOM
Love sci-fi movies? Well, now you'll be going head to head with things that might just be out of this world. But before you can expect to be the first people to reveal evidence of alien life, firstly you need to make it home. Alive.
CONTROL ROOM 54
This one is perfect for gamers. You and your team will need to break into the control room and then work together to make sure every last hen is able to escape. Big puzzles, big team work and a big chance you'll never be seen again!
PANDORA'S ESCAPE
Like being part of a scary movie, this room will push your nerves to the edge. Have you really got what it takes to take on the escape rooms? Then it's time to put yourselves to the test. We dare you!