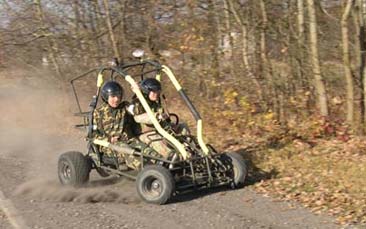 Ladies, start your engines and get your waterproofs on, you're in for the ride of your lives with these crazy off-road creations!

These crazy karts are going to have you speeding along on a very mucky track - water splashing, mud splattering and hens grinning! Cheaper and a lot more fun than any mud bath, mud buggies are a new and unusual alternative to the typical motorsport activities often available to budding hens. The nearly wed will soon forget all about the table decor and cake tasting troubles and be fully focussed on kicking up clumps of terrain and speeding along our amazing course.

They're low to the ground, so you'll feel every bump and splash, as well as experiencing the full speed of the zippy little buggies. They've also got extremely springy suspension to have you bounding along, as well as roll bars and bucket seats - though hopefully you'll keep all four wheels on the ground!

The exact format of the day depends on your location, but getting down and dirty outdoors with a little fast-paced fun is certain. If you're a group of girls that enjoy action and adventure and don't mind getting their hands (and everything else) dirty, hen party mud buggies are a great weekend activity for the girls!