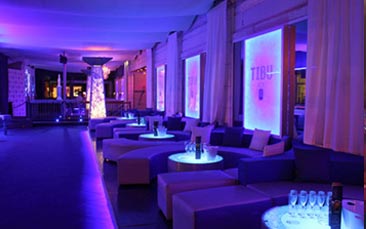 Get the hen party started in style with our TIBU VIP hen party package in Marbella. TIBU BANUS is one of the hottest nightclubs in Puerto Banus, where the 'beautiful people' come to party in style and quite rightly you should be with them, having a weekend to remember.
With top DJ's from around the globe, the nightclub boasts a huge open-air terrace, so you can party beneath the stars and GoHen can take away all the hassle.
We'll arrange pre-paid guest list entry so you can bypass the queue and hit the dancefloor quicker than you can say "Vodka martini!". Not that squeezing in for service at the bar need to worry you either. On arrival, a host will show you to your own VIP table where a bottle of spirit, mixers, glasses and ice will be waiting for you.
Having your own table really will make such a difference, having somewhere to come back to between hitting the dance floor, stepping out onto the terrace to enjoy the balmy air, or just taking a stroll around the club to check out the eye candy (and there are plenty of hot guys to survey)... This certainly isn't your average night out, this is the kind of club and big night out that hen parties were invented for and all wrapped up with extra glitz and sparkle to give the bride-to-be a night with her 'besties' that she'll remember long after those Marbella tans start to fade.