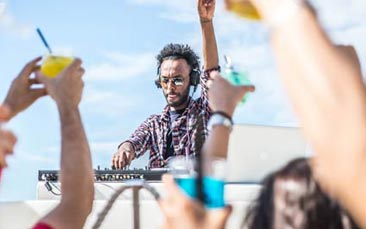 Sorry S-Club but there are parties like an S-Club party. And Bradley, as much as we respect your opinion the fact remains that this superb afternoon of non-stop fun, games and sunshine leaves your S-Club shindigs in the shade.
The fun begins at a pre-party party (que?) in the excellent Coco Bongo bar. You'll meet a number of other party people (and yes, we shall be using the word 'party' a lot Editor) at a pre-party bar (told you). Here the fun and atmosphere will get into full swing. After 30 minutes you'll all head to the stunning catamaran which holds up to 110 passengers.
On board each of the hens will have 5 drinks to make sure you're suitably hydrated during the cruise. This is brilliant fun, have your best beach wear on and get working on those wedding tans. You can either relax on the nets and soak up some rays or you can join in with the madness. Party reps will take charge of the afternoon and set up some great games which the more competitive among you can dive into. Or if you need some cooling off then there will be a swim stop so you can dive into the crystal clear Mediterranean waters.
The three-hour Magaluf hen party cruise will also have its dancing shoes on as there is a DJ playing top tunes through the afternoon. Eventually you'll head back to dry land where you'll have entry to one of the island's hottest night clubs, so you can keep on partying until the sun comes up.
Please note; We all love a gin and tonic, the reality is booze and water don't mix so always drink responsibly around water, especially if you're planning on swimming.