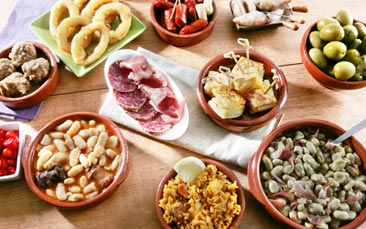 Ok, in the interests of cultural relations it's time to clear a little something up. Tapas is not a meal, this fantastic selection should not be treated as 'dinner'. Tapas are fantastic bar snacks, something to be enjoyed with drinks and great company. Our friendly local guide will take you on a tour of three bars, with a selection (2 3) tapas dishes plus a drink in each bar.
Typical dishes (may vary)
Gambas al Ajillo: Fresh prawns in olive oil with garlic & chilli peppers
Cazn en Adobo: Fried marinated dogfish
Bacalao: Salt cod, breaded & fried or in tomato sauce
Calamares: Fried squid rings
Chipirones: Small squid gilled "a la plancha" (on the griddle)
Chocos: Deep-fried cuttlefish
Espinacas con Garbanzos: Spinach & chickpeas with olive oil & garlic
Patatas Bravas: Fried potato wedges in a spicy aioli sauce
Ensaladilla: Potato salad with tuna or prawns
Calamares del Campo: Onions & peppers fried in breadcrumbs
Gazpacho: Traditional cold tomato soup
Salmorejo: Thicker version of gazpacho, often used as a sauce
Tortilla: Potato omelette
Revuelto: Scrambled eggs with fillings
Montaditos: Small filled tasted buns
Arroz del Da: Rice of the day
Jamn Iberico: Thinly sliced salt-cured ham
Solomillo al Whisky: Pork tenderloin in whisky & garlic sauce
Croquetas: Croquettes made with béchamel sauce
Jamon Serrano: Mountain-cured ham
Boquerones en Vinagre: Fried anchovies
Pinchitos Moruos: Moorish kebabs
Albondigas en Salsa: Braised pork & beef meatballs
Please inform us of any dietary requirements in advance.