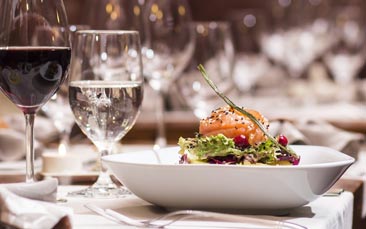 For something truly unique on your girly weekend in Madrid visiting the oldest restaurant in the world is a must. This traditional Spanish restaurant dates back to 1725 and was written about in Hemingway's book - The Sun Also Rises, he often claimed it was his favourite restaurant in the world.
If the bride-to-be is something of a foodie then this really is a once in a lifetime dining experience. And it isn't simply a local claim, the restaurant is recognised by the Guinness Book of Records.
Inside the restaurant has delightful etchings and of course the unmistakable ambience that can only be borne of that much incredible history. The restaurant has played host to Kings and Queens, nobles, presidents, pop stars and a number of great artists in a number of different fields, singing, painting, sculpture, dance and more. The famous painter Francisco de Goya used to work there as a dishwasher.
We'll take care of all the details for you. Your table will be waiting on your arrival, the menu is set and cooked in the historic wood-fired oven and to take away any worries at the end of the night, the meal will be pre-paid so there's no need for everyone to try and split the bill.
It's certainly not every hen party that can say they've visited the world's oldest restaurant making this a unique and very special hen party activity.
You'll enjoy three courses and drinks.