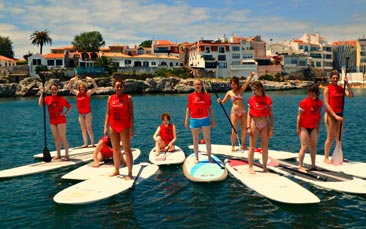 Some sports just look cool, and paddleboarding is definitely one of them. Plus you get the added bonus of chilling out on one of Portugal's best beaches with bars, cafes and restaurants and a chance to work on those pre-wedding tans.
You'll be met at your hotel and taken to the beach where you'll meet our Lisbon hen party stand up paddleboarding instructor, all the hens will be given a board, paddle and life vest and then learn the basics on the dry sand. Once everyone is happy you'll dip your toes in the water and try out those boards for real. You'll soon be skimming over the water with the inevitable occasional splash as you all find your balance.
As everyone feels more confident it's time for your competitive sides to come out in a series of games and races. It's all just for fun and you will probably find you're too busy laughing to manage much paddling, except the super-competitive hens among you (you know who you are!).
At the end of the session transport will be ready to take you back to your hotel, or you can choose to stay down the beach and work on your wedding tans. The beach has plenty of bars, cafes, shops and restaurants nearby to make your stand up paddleboarding hen party a real highlight of your weekend.