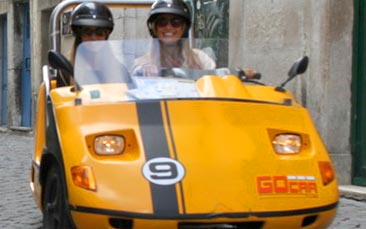 When you hear the words "sightseeing" you tend to think of tourists and brightly coloured clothes, clutching maps and following a shouty man with an umbrella. But Lisbon really is a fantastic city and we'd urge any hens to really make the most and enjoy everything the Portuguese capital has to offer.

So let us introduce the Go Car. These brightly coloured vehicles are without doubt the cutest and most fun way to get around the (not very) mean streets of Lisbon. Each car holds two hens and are simply brilliant fun to drive. You can all line up and head off in convoy to ensure no hens are left behind (put the slower drivers to the front and faster drivers to the back if you want to make sure you all stay together).

Driving through the street in convoy in these bright yellow speedsters is kind of like a cross between Hells Angels and Toy Story. 'Hen's Angels'?

You'll certainly have plenty of laughs on what will be a memorable afternoon. You can take things at your own pace and it will give you plenty of chance to find shopping hotspots to check out later for a little pre-wedding retail therapy.

At GoHen we've been visiting Lisbon for years and it is one of our favourite European cities and Go Cars are up there with the very best things to do in a city that loves to have a good time. And what's more, we just know you're going to make those crash helmets look fabulous!