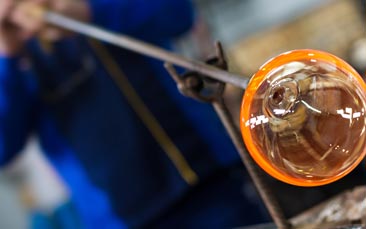 There's no doubt that you and the girls will indulge in a glass or two on your hen weekend. But our hen party glass blowing will give you the chance to create your very own! This amazing activity is exclusive to Bath, so you know you'll be getting a unique experience that will be unlike anything the ladies have tried before.

Glass blowing is the process in which the glass is shaped; it's like throwing a pot on a wheel. Except with molten glass, a very big, long tube and a whole lot of fire, it's a lot more exciting! You'll have one of our lovely instructors at hand at all times, so if your glass bauble suddenly starts looking more like a wonky vase, you'll soon get back on the right track!

Our glass blowing hen party offers you and the girls a chance to get hands on with this fantastic creative process in a professional studio; you'll be able to try your hand at blowing down the long iron to create your very own glass creation.

The professional glass blower will even finish off your bauble for you, which you can either collect from the studio the following Monday or you can have it delivered directly to your door. So you and the hens can sit back, relax and find all about this fascinating art form!

Glass blowing takes place in the centre of Bath, so wherever you're staying you'll never be too far from some creative action. You'll even be treated to some complimentary chocolates and bubbly while you blow, now that sounds like a glass half full kind of deal to us...