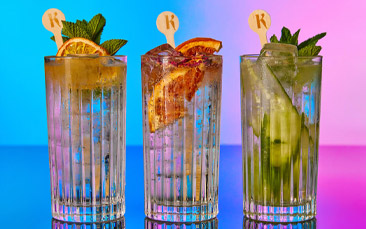 Enjoyed on a summer's day, a night out, and at any kind of celebration… where would we be without gin? It's truly one of the most versatile, exciting spirits known to hen-kind. But we don't need to convert you to Britain's much-loved spirit! If you simply want to learn more about your favourite tipple and kickstart your night in style, then this hen party Gin Masterclass is the perfect way to break the ice and get you in the party spirit.
You and the girls will be taken care of from beginning to end by our friendly gin expert who will be ready and waiting to impart all of their gin-ius knowledge upon you. You'll be welcomed with a G&T on arrival, followed by a shot of the very first form of gin (Don't say our experts don't take care of you!). Then you'll dive straight in, discovering the fascinating history of gin and gaining a greater understanding of the different botanicals used, before you get to play with a huge range of delicious cocktail ingredients.
Naturally, you can't become true connoisseurs without sampling a bit of the 'Mother's Ruin' for yourselves. You and the girls will sample three different gins and taste a variety of tonics as you gain a greater understanding of this wonderful spirit. Then you'll get hands-on mixing and shaking as you work together to create three fabulous gin cocktails as a group.
To finish up, you'll get the chance to create and design your very own G&T. You'll walk away with a greater understanding of your favourite spirit, plus a mini bottle of Beefeater gin and Fever-Tree tonic to take home (or enjoy there and then before taking a spin on the dance floor). It's the perfect way to celebrate both the bride-to-be and the royal G&T!
If you're interested in upgrading to a two-course meal, three-course meal or a delicious buffet-style dinner, just ask your Destination Specialist for details.