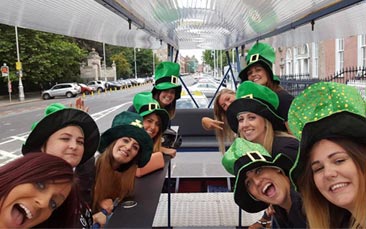 "We came, we saw, we partied... We also did a lot of pedalling." Our Dublin hen party bike is a great mix of laughter, exercise and getting out and about on possibly the most random form of party transport ever invented.
You'll all climb aboard the giant bike which has 16 seats (10 connected to pedals, the other 4 hens can take it easy before swapping places later) and a friendly driver/guide who'll keep you all pointing in the right direction. He/she will keep you entertained with plenty of stories/blarney. And for a party feel there's a sound system for you to sing along to your favourite party tunes.
Sadly due to local by-laws, you're not allowed to drink on board the party bike (booooo!), thankfully you'll stop off at a few pubs along the way (yay!). After enjoying a rehydration break, you'll then hop back aboard the bike, swapping places if you like, before heading back off along the route.
The party bike really is something a little bit different, an unusual activity the hens are unlikely to have tried before, making it perfect for any Dublin hen party. It's what exercise should be like, fun, laughter-filled and with occasional pub stops. In fact, maybe this is the future of all transport!
Talk to our team about the soundtrack and whether you can bring your own tunes. You might be able to play your own mixtape style playlist of important songs from the bride's early years (including that period in high school when she was obsessed with a particular boyband we dare not name).