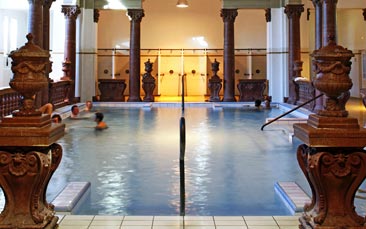 Budapest is known worldwide as the 'City of Spas', with over 118 thermal springs in the city. In fact, their traditions of baths stretches back to Roman times and have led to this being one of the most famous spas in the world. With those kind of relaxation credentials we consider it suitable for hens to get perfectly pampered and whisked away to their own personal slice of heaven ahead of the bride to be's big day (or perhaps after a big night out!).

Further to that, the site is actually the largest medicinal bath in the whole of Europe - quite the accolade to boast about! Located in the beautiful City Park, it stands as a neo baroque palace with 3 outdoor and 15 indoor pools. This most recent construction was built over 100 years ago, it attracts over 1 million visitors per year, and is a magnificent place for you and the girls to chill out, relax and totally unwind in. Rejuvenate, refresh and get feeling crisp and clean again, ready to hit Budapest town later on!

Your fabulous day package gives you a full day's access to the facilities which include steam rooms, jacuzzis and saunas amongst other treats. You can also add a little pre-wedding pampering with a range of treatments available which you can book before you travel. Please ask for more details.