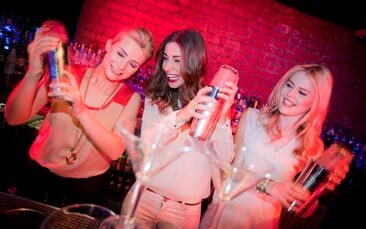 For those hens looking for a wild, wonderful and cheeky weekend then we have the perfect package this is sure to get the girls laughing along from start to finish.

As a way to celebrate the end of singledom, our Ultimate Cheeky Bristol Hen Party is absolutely ideal. For the duration of your session, you'll take over a "gentlemen's club" with your own special brand of girl power and three fantastic activities.

Cocktail Mixing Masterclass - Under the guidance of a professional mixologist you will learn how to make perfect cocktails and of course, sample the fruits of your labour. Learn great cocktail shaking skills for your next party or BBQ. You'll make (and probably drink) two cocktail each.

Pole Dancing or Burlesque Class - Learn the sultry art of Burlesque or sizzling-hot pole dancing from professional performers. It's not just hilarious fun, it's also a surprisingly tough workout. You'll also get to watch a private dance from one of the professionals!

Ann Summers Rep - An Ann Summers rep will be on hand for you to check out and potentially buy merchandise. Perhaps treat the bride-to-be for a little something to help spice up the wedding night?

You can choose to do the events in order to suit you. Although you should probably save the cocktails until after you're done spinning around poles. Whatever you decide, this is a day of non-stop laughs, all with a cheeky twist.