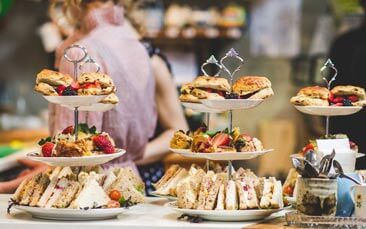 Our hen party afternoon tea in Bristol really is the perfect way to spend a few hours with the girls in refined, vintage and delightful surroundings. You'll feel as if you've been transformed to another era, where the pace of life slows and you're able to totally relax and unwind, especially after any big nights out.
You'll be welcomed by the fantastically friendly staff and shown to your reserved table. Once you've made yourselves comfortable you can tuck into a delicious and quintessentially English afternoon of fresh tea and cakes.
The venue has its own signature teas and a loose tea collection so you can try something totally different. Alongside the fabulous teas, there are dainty finger sandwiches, scones, cakes, strawberries and Cornish clotted cream.
You can also add cocktails* that come served in teapots:
Mint Tea Mojito
Chai Rum
Gin and Tonic
The service and crockery all have a lovely vintage feel which matches the decor, ambience and staff. Everything is served on quirky, miss-matched bone china which just makes it taste all the better. The cleverly constructed "tea towers" also have a vintage feel about them. So you can step back in time, let the fast lane zoom past and catch up with all the pre-wedding gossip and news.
If the bride-to-be is having some vintage touches on her big day then this is a great way to tie her hen party into her wedding plans. It's also a tidy little rest stop on a busy day of shopping or hen activities.
*Please note; alcoholic drinks come at an additional fee.