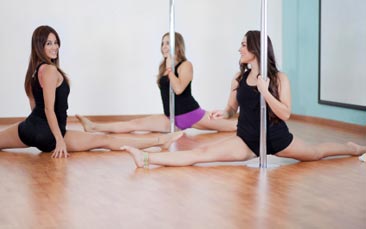 "Let's get physical, physical!" Not only is pole dancing a fantastic way to keep fit but the art of erotic dance is also great fun. In fact, attached ladies can pretty much guarantee their fellas will be asking all about it the minute they get home from their weekend, it's up to you if you decide to put on a show.

In Bristol our friendly fully qualified instructors will help show you the ropes (or should that be "poles"?) in what is bound to be a hilarious afternoon as you tease, wiggle and giggle your way through what will be a fun class suitable for even the most inflexible dancers (and yes, we would put ourselves very much in the "two left feet" category here at GoHen). As a fitness craze pole dancing is becoming increasingly popular with many women taking the sport up as a great way to stay in shape.

It doesn't matter whether you're a novice dancer or a regular Miley Cyrus (possibly a bad example but you know what we mean) pole dancing is great fun for everyone. You'll start your session with a welcome glass of bubbly and 2 more cocktails as the session progresses. By the end of the afternoon, you'll either be gliding round the poles like top pole dancing competitors or holding on for dear life as you laugh uncontrollably at the hilarity that's been unleashed.

Your session will include:
A welcome glass of bubbly
2 delicious cocktails: a Strawberry Mojito and a Cosmopolitan.
Exclusive hire of a prime Bristol city-centre venue for 2 hours.
A pole dancing lesson with a professional.